8 INGREDIENT POTATO & LEEK SOUP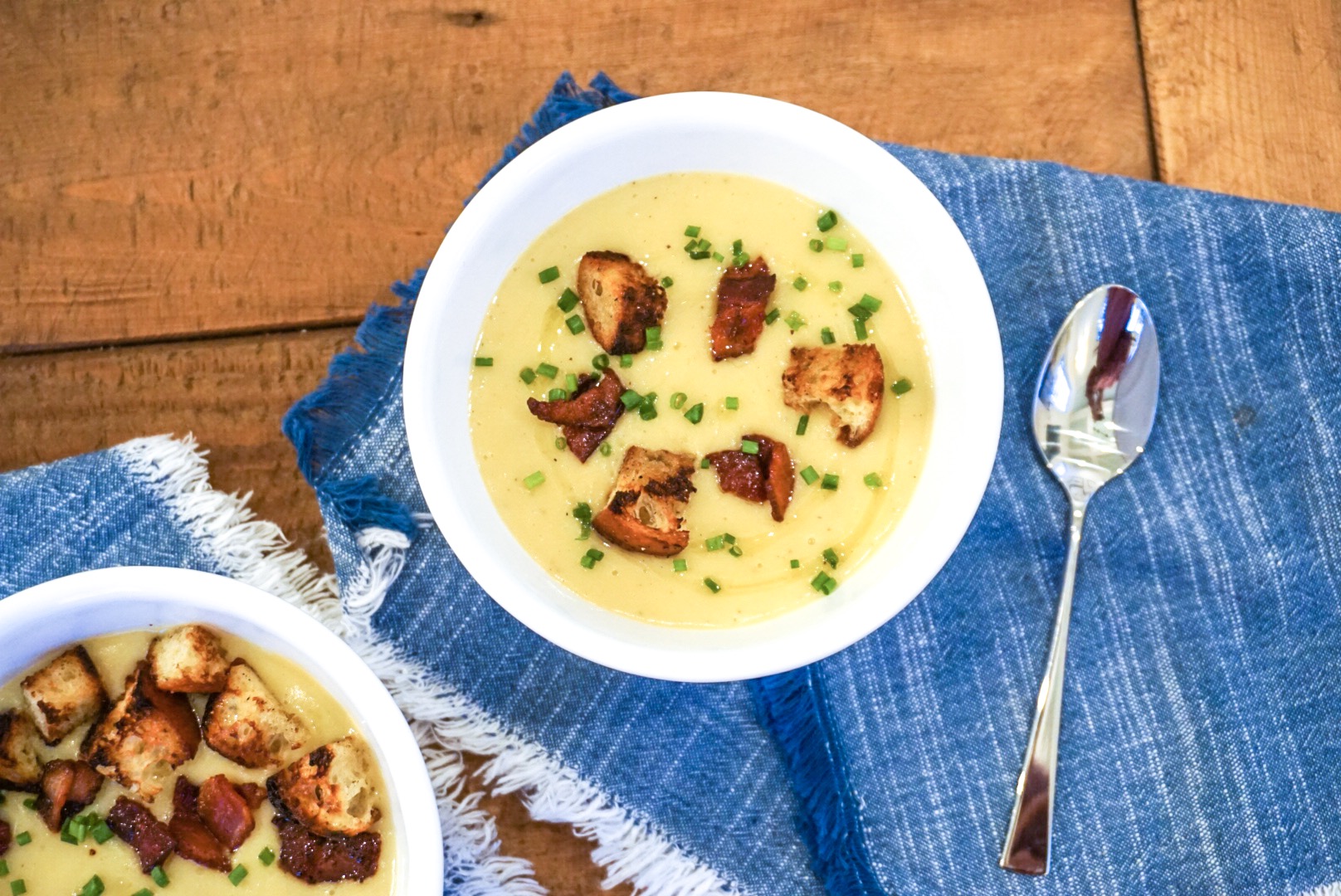 Soup, thats creamy, without heavy cream?? YES IT DOES EXIST!
I honestly love this Potato & Leek soup as a warm or cold preparation! But for this I will be describing it in its original cold preparation - for a warm preparation simply heat in a sauce pan until at your desired temperature.
Ingredients:
8 leeks (white part only)
Two medium russet potatoes
Four tablespoons of ghee - for VEGAN prep use desired oil
Two cups of stock - I prefer homemade chickens stock
Two cups of coconut milk
Pinch of nutmeg
Salt & pepper
Chives as garnish
Local Turkey bacon as garnish optional - bake on a sheet tray until crisp
How to:
Place ghee in a large pot until melted
Add in leeks until sweating (do not let them take on any color! Until they are translucent about five minutes)
Then add potatoes another 3-5 minutes
Season along the way with salt and pepper (as always)
Bring stock to a boil for 2 minutes, then reduce to a simmer
Cool until potatoes are tender (30 minutes or so - test your potatoes by sticking a paring knife through and if there is no resistance then they are ready!)
Blend everything together in a vitamin or with a handheld blender
Once blended refrigerate until chilled
Once it's chilled, bowl it up (meaning plate the soup in your fav bowl) add the chopped chives and the optional crumbled turkey bacon on top, season as you like and VOILA!
This is my go to winter soup recipe, it keeps in the fridge for about a week, and in the freezer for months! Its creamy and delicious, and can be vegan without the Ghee! Adding the Turkey bacon adds a bit of crunch and saltiness that I adore, I also have roasted broccoli and added that on top as well!