GLUTEN FREE WAFFLES
Waffle Wednesday is my favorite kinda Wednesday
Truthfully I've gotten lazy when it comes to my mornings - when usually breakfast is my favorite meal! My appetite just hasn't been what issued to in the mornings (I'm usually a bottomless pit when it comes to breakfast foods, i.e. Ron Swanson style) but lately I've been drinking smoothies and forgetting to nurture myself - TREAT YO SELF! So I'm treating myself to waffles, in bed, while watching Friends as I enjoy this GOODNESS - before work of course!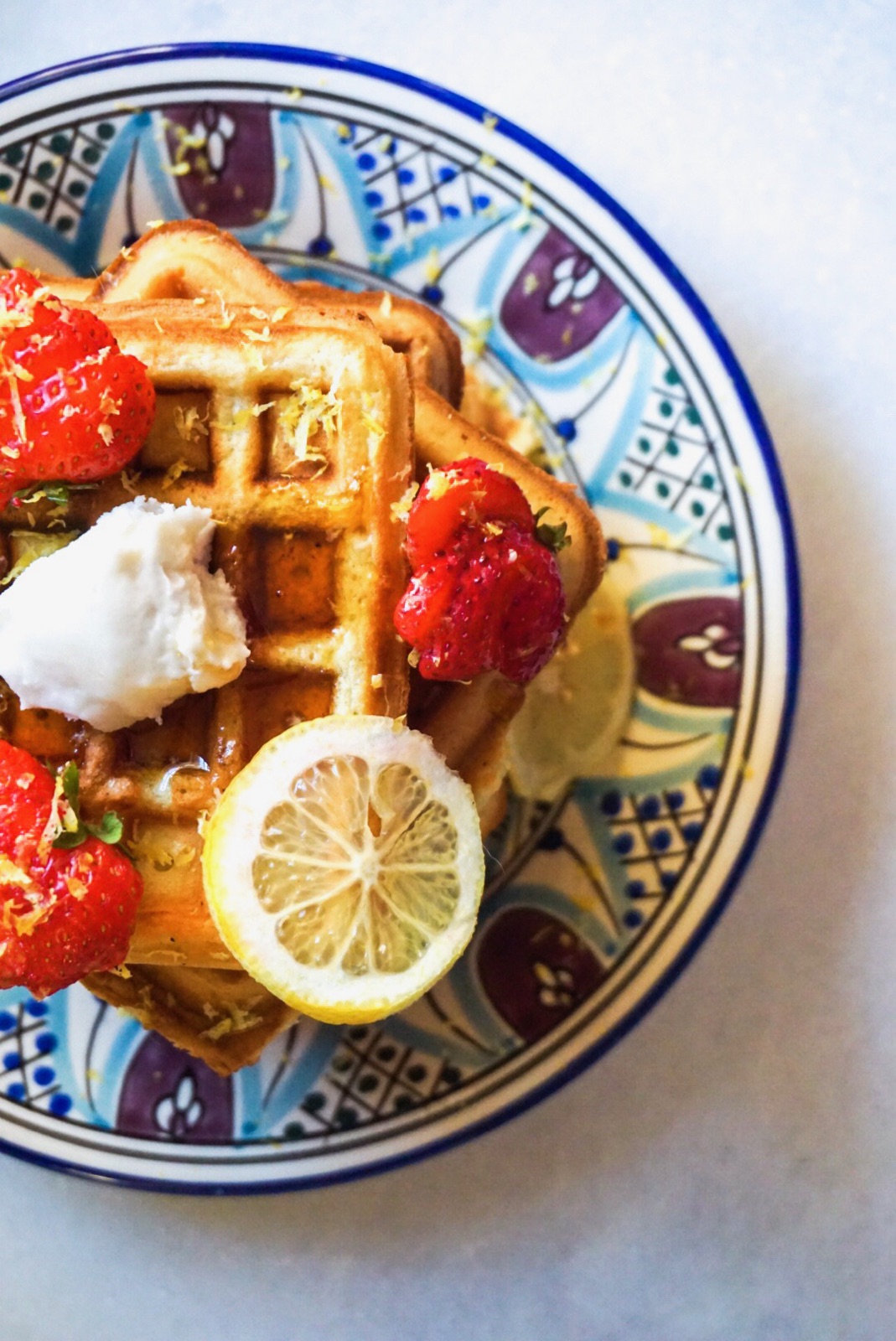 Cook & prep time 20 minutes!
Ingredients:
Waffles -
1 1/2 tsp baking powder
Small pinch of sea salt
1 1/4 cup of nut milk + 1 teaspoon apple cider vinegar
1/4 cup of melted coconut oil (or olive oil)
1/4 cup of honey (or maple syrup)
1/2 gluten free rolled oats
1 3/4 cups gluten free flour (or almond flour)
1/2 teaspoon vanilla extract
1/2 teaspoon almond extract
1/2 teaspoon cinnamon
Optional Add ons (after waffles are made)
Handful of strawberries
1 teaspoon lemon zest
1/2 Tblspoon of Coconut Kitchen Lemon Zest Coconut Butter
How to:
Preheat waffle iron
Combine nut milk and vinegar in a small bowl and let it activate
Add in coconut oil, honey, and whisk
Add dry ingredients into large mixing bowl & whisk
Add wet ingredients to dry ingredients until combined
Coat waffle iron with nonstick coconut oil spray (because it cooks well at a high heat)
Pour a little more than 1/4 cup (depending on the size of your waffle maker!!) onto waffle
Cook according to waffle maker instructions
Top the waffles with plenty of maple syrup, cinnamon, straws berries, lemon zest AND Lemon Zest Coconut Butter by @CoconutKitchen!
VOILA! WAFFLE WEDNESDAY!
These waffles (not drenched in maple syrup) last for three weeks or so in the freezer!